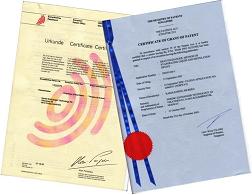 As a company developing new technologies and solutions, a philosophy of protecting our property is established. Any new issue that may have an impact, or can play a key role in a solution, is considered. We also use Non Disclosure Agreements (NDA) to all parties involved, and confidentiality agreements to all employees. Protection is part of the technical solution. Minor issues seeming unimportant, can play a major role in order to make a solution reliable. Such focus when designing can make even unpatented details hard to successfully copy.
Both the Heat Exchanger and Evaporator element are well protected by patents in all applicable countries. The unique Pleat features are protected both as the special geometry, but also how this can be utilized as a working product. There are two main patents.
The "Pleat" patent
The patented geometry is the ratio between the element height, the channel width, and material thickness. It is within this ratio the catalytic boiling process occurs. Boiling outside this ratio is strongly reduced and not a treat.
In order to ensure strongest possible protection, the highly recognized patent company Håmsø AS (http://www.patent.no) has made independent verification of the patent strength, and declared it strong.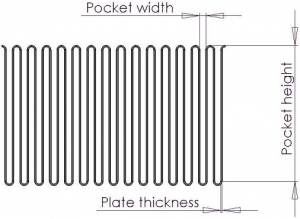 The "Element" patent
This patent protects how the Pleated core element is utilized into a working product. The pleated element itself has no interface to the process lines, except through its surrounding interface. The patented solution encloses the pleated element, and add all the required interface, such as sealing, gaskets, mechanical strength and other features making this into a working product.